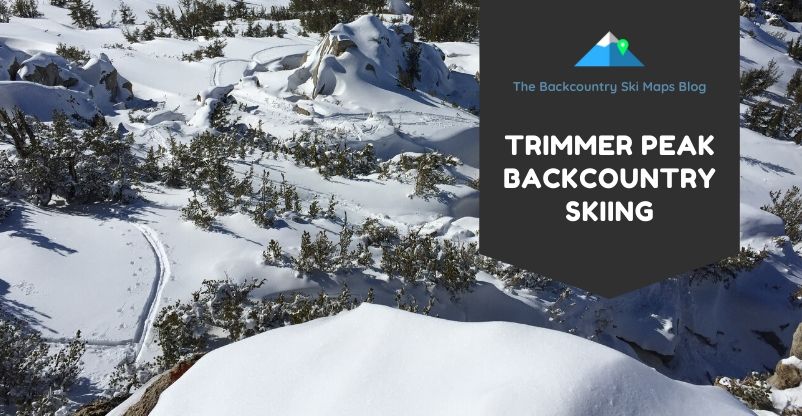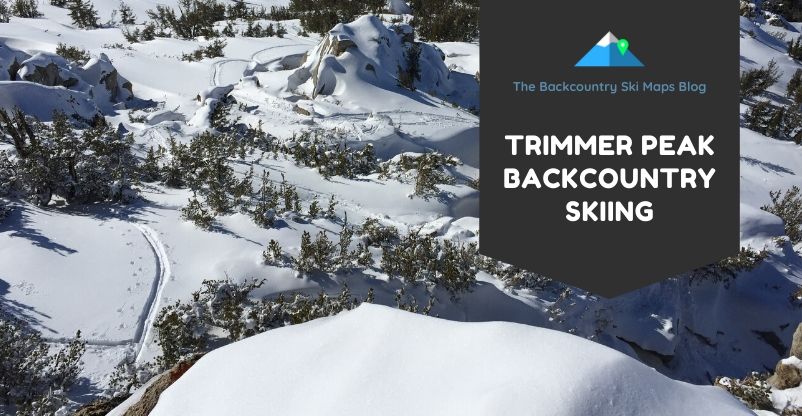 Trimmer Peak
Starting Elevation: 6,500ft
Summit Elevation: 9,915ft (but most stop at 9,100ft)
Cumulative Elevation Gain: 3,300ft for one lap, including the skin back up to the saddle
Distance Covered to top: 2.5mi (plus another 0.5mi to return to the saddle from the bottom of The Elevens
Description: Trimmer offers relatively uncrowded skiing on some of the best glades around South Lake Tahoe.
Intro
Trimmer Peak is an overlooked gem of the Lake Tahoe backcountry. When the snow levels are low, a trip out to Trimmer can be incredibly rewarding – it has amazing views of the lake, great open skiing in The Elevens, and fun, featured glade skiing on the lower slopes.
Despite this, and its proximity to South Lake Tahoe, Trimmer doesn't get a ton of traffic. A large part of this is likely due to the fact that in low snow years, or whenever the snow levels are high, Trimmer's lower slopes can be unskiable.
Don't let this fact deter you – a ski of The Elevens is well worth a slog through the lower slopes, and if you can get the bottom slope in good conditions, this might just become one of your favorite spots.
Access
Parking for Trimmer is at the High Meadow Trailhead at the end of High Meadow road. This area is heavily used by local dog walkers, but there is usually enough street parking for a few cars here.
Make sure to park in such a way as to not bother the local residents or impede snow plows!
Ascent
From the High Meadow Trailhead, follow the summer trail for about half of a mile. Break out to climbers right onto a sub-ridge of Point 8455, and switchback all the way up the forested slopes to the saddle just east of Point 8455.
From here head south onto the ridge. Follow this ridge up until it mellows below the rocky northern summit of Trimmer at around 9,050ft. The true summit is south of here, but being some distance away, most skiers skip it in favor of getting in more skiing!
To hit the Elevens, make a skiers left traverse across the face here if the conditions allow – remember that The Elevens are old avalanche paths, and may be unstable!
Descent Options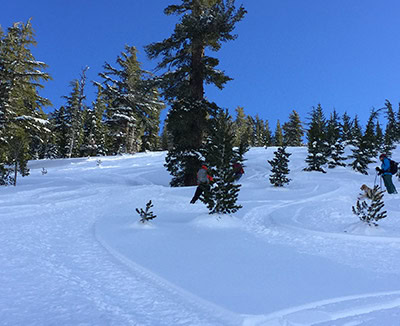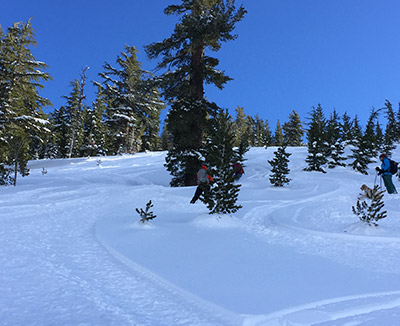 Once you hit the path of your choosing, head straight down. The Elevens are quite open, and have thin trees to either side, so you can pick and choose your descent. This is by far the most popular descent on Trimmer Peak, and once you've skied it you'll understand why!
You'll get about 1,500ft of stellar fall line skiing here, before ending up near a small stream at the bottom. From here, skin southwest – either to regain your skintrack for another lap, or to regain the saddle near Point 8455 and return to your vehicle.
If you choose to return, the north face of Point 8455 can offer anything from superb powder skiing to a heinous death-crust. Try to time this one so you get the former and not the latter – in good conditions this lower slope can be just as fun as The Elevens.
Topo Map
Our digital only topo Lake Tahoe: The Best of the Rest covers Trimmer Peak, in addition to a number of descents that don't fit into one of our paper maps. We don't have a paper topo map for Trimmer, but Backcountry Ski Maps' Lake Tahoe: Southwest covers nearby descents on the West Shore, Mt. Tallac, the areas around Meyers, and the Desolation Wilderness.
Check it out here: