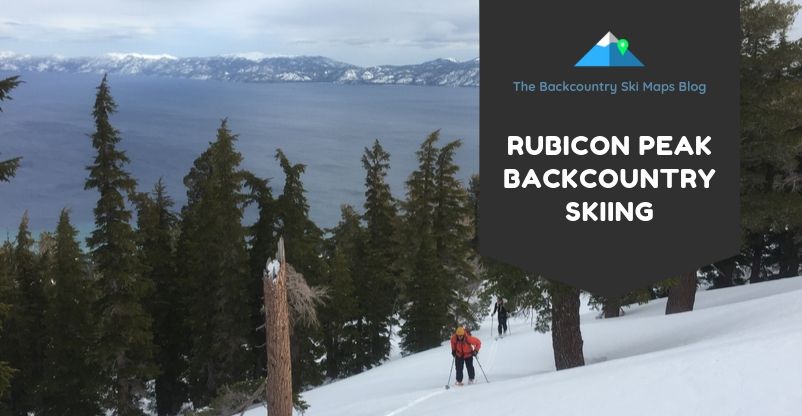 Rubicon Peak
Starting Elevation: 6,250ft
Summit Elevation: 9,183ft
Cumulative Elevation Gain: 2,950ft
Total Distance Covered: 2mi
Description: Rubicon Peak is one of the true gems of the West Shore of Lake Tahoe. Perfectly spaced glades allow for excellent backcountry skiing, while a north-facing aspect and stunning views of the lake further add to the allure.
Intro
Rubicon Peak is a storm-day paradise for Tahoe area skiers looking for powder. Situated at the north end of the West Shore peaks, Rubicon is just a smidge less tall than neighboring Jake's, but it packs a punch of its own when it comes to tree skiing.
Rubicon is, for all intents and purposes, entirely covered by well-spaced old-growth trees – the kind that make ski tourers drool. With all this tree cover and relatively few start zones, Rubicon Peak tends to make a great option for backcountry skiers searching for a storm day fix.
Rubicon has an unskiable rocky summit, which makes a fantastic spot for lunch on a nice day – the panoramic views of Lake Tahoe just below are difficult to beat.
It can get busy on weekends and pow days, but overall sees much less traffic than nearby Jake's Peak.
Access
There are two winter parking options for Rubicon Peak. If snow levels are low enough, skiers can park on pullouts off of Highway 89. If not, it's best to park at the dead end of Highland Drive (which will also save you about 650ft of skinning).
Both spots can fill up on busy days, and skiers have been occasionally ticketed in both spots as well.
The Tahoe Backcountry Alliance has proposed additional parking lots both at the end of Highland Drive and on Highway 89 to provide much more winter parking for backcountry skiers.
See their proposal here, and visit the TBA site to do more about ensuring winter access around Lake Tahoe.
Ascent
Navigating up Rubicon is incredibly easy. Keen Tahoe City skiers tend to put in a skintrack quite early, but if not, just head west from the Highway 89 pullouts or southwest from Highland Drive. Navigate through the start of the forest without crossing private property, and then just head up – due to the shape of Rubicon, it's nearly impossible to head anywhere other than the summit by heading up from here.
Many skiers stop at the bottom of Rubicon's rocky summit block. If it's your first time in the area and you're comfortable with a scramble in ski boots, it's worth making the ascent to the top of the pinnacle – it's got a great exposed feel and brings you the most rewarding views.
Descent Options
From the summit of Rubicon, any northward direction brings you to worthwhile skiing.
The most popular backcountry ski descent here is the Northeast Glades – they have the longest fall line descent, as well as the added bonus of always heading towards the lake. Just make sure not to ski into any trees while enjoying the view!
If it's been a few days since the last storm, the slightly shorter true North Glades can hold onto snow slightly longer than the Northeast Glades due to their more favorable exposure. Heading directly north from the summit also sets you up better for your return if you parked your car at Highland Drive.
It's tough to get in too much trouble here, so as long as snow conditions and group skills allow, it can be fun to do a couple of laps and explore all of Rubicon's northerly aspects.
Topo Map
Backcountry Ski Maps' Lake Tahoe: Southwest covers backcountry skiing and ski touring descents on Rubicon Peak, the rest of the West Shore, Mt. Tallac, the areas around Meyers, and the Desolation Wilderness. The only map specifically made for backcountry skiers, it includes over 70 ski descents to help you make the most of the Lake Tahoe backcountry, and is available in both a GPS-enabled digital format for your phone, and a waterproof tear-resistant paper format that will never run out of batteries.
Check it out here: