Have you ever struggled to find the entrance to a line you've approached from the back? Struggled to find the car at the end of a long day? Gotten lost in a white out? Wanted to know exactly where that pillow line was on the way down? If so, our digital map downloads are for you.
When viewed on a GPS-enabled phone, our digital maps let you:
View your location on map using GPS
View your map with slope-angle shading
Record GPS tracks
Drop placemarks
Find map coordinates
Measure distance
Plot geotagged photos
Our downloadable digital maps are a great supplement to paper maps, and are available to purchase with or without slope-angle shading, and as a standalone or as a bundle with a paper map.
They include all the same descents, approaches, and ski lines, and the ability to see where you are in real-time when viewed on a GPS-enabled phone – but please note that digital maps are meant as a companion to our paper maps. They do NOT include the color photos or route descriptions included in the paper maps.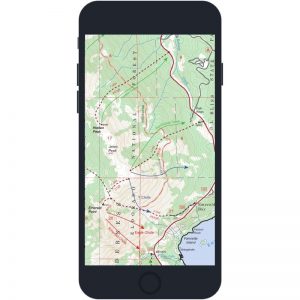 To purchase a digital map, visit our shop navigate to the map you're interested in, and select "Paper Map + Digital Download" or "Digital Download Only" from the dropdown menu to get a downloadable version. Once you've completed your purchase of a digital map, we'll email you a set of private download links for the shaded and unshaded versions of your map.
You'll need to download the Avenza app to use the digital versions of our Backcountry Ski Maps – they are not viewable on a PC or elsewhere outside of the Avenza app.
Find out more at How it Works from our friends at Avenza.