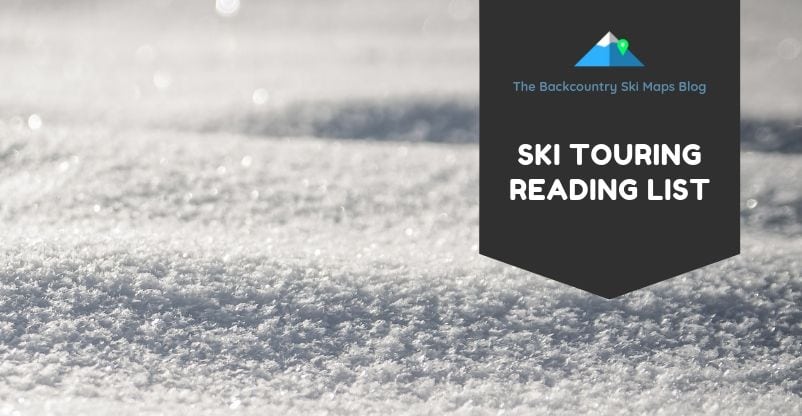 The Best Backcountry Ski Books for Pure Pleasure
Fifty Classic Ski Descents was put together by Chris Davenport, Art Burrows, and Penn Newhard. It details fifty incredible ski lines in North America with just enough pictures, statistics, and write-up to get your heart pounding.
The book that inspired Cody Townsend's The Fifty Project, this is the ultimate coffee table book for skiers and ski mountaineers. The only problem is that if you're in North America, it probably includes a handful of lines in your zone, and you may become obsessed with some of them.
Get the Fifty Classic Ski Descents of North America directly from the authors here.
Jeremy Jones has put down some of the gnarliest lines ever skied or snowboarded. In No Words for the Way Down, you get an insight into his thinking during six years of filming the Jeremy Jone's Trilogy (Deeper, Further, and Higher).
Journal entries in the book include personal sketches and give an honest and authentic view into the mind of one of the greatest mountaineering snowboarders of his generation.
Oh yea, and the photos are mouthwateringly good.
Pick up No Words for the Way Down from Teton Gravity Research.
The Best Books for Picking Up Ski Touring Skills
Allen & Mike's Really Cool Backcountry Ski Book is a work of pure genius. It is a fairly comprehensive overview of many of the skills necessary for ski touring, but the real value of this book is in the readability. Hilarious illustrations by Mike Clelland are accompanied by equally humorous text from Allen O'Bannon.
Even the most seasoned ski tourer will pick up some valuable new tips, with covered topics ranging from snow shelters to wax to basic skinning technique.
You can find the book at Amazon, but if you like supporting the guys who made this all happen, check it out over at Falcon Guides instead.
The Mountaineers organization has published countless valuable books for accessing the mountains, and this one should be high on the list of any beginner or intermediate ski tourer looking to take the next step.
Topics covered range from equipment to avalanche safety to skinning and skiing technique to mountaineering skills and ropework.
Martin Volken, Scott Schell, and Margaret Wheeler do a great job of making the information easily digestible, making this a useful book to keep on your shelf and reference throughout your backcountry ski career.
You can find the book over at The Mountaineers.
The Best Books for Avalanche Education
Bruce Tremper's Staying Alive in Avalanche Terrain has become the bible of avalanche safety.
Staying Alive covers the basics of weather, terrain selection, and even human factors, but also delves deeper into snow science and the why's behind a lot of what professionals do in the backcountry. If you're regularly traveling in avalanche terrain, or are looking to become a guide, patroller, or avalanche professional, this book is a must-read.
Those who are more casual ski tourers still stand to gain a lot from Staying Alive – it is nicely sectioned and indexed so you can use it to help debrief a day in the backcountry when a question about that layer you found or that sound you heard comes up.
Get Staying Alive from The Mountaineers.
Jill Fredston and Doug Fesler's Snow Sense is the classic avalanche safety text. Now into it's 5th Edition, the book remains as relevant as ever.
As the title suggests, Snow Sense mainly focuses on snow and terrain analysis – looking into weather, terrain evaluation, and elementary snow science.
This is not the most advanced book, but it provides a great grounding for anyone who is relatively new to the backcountry, especially since it is written in layman's terms, which makes it accessible even to the newest of backcountry skiers. This is a particularly good read just before or after a level 1 avalanche course to cement your learning.
Sadly we're not aware of where to get Snow Sense from the publishers, but you can purchase it on Amazon.
The Best Books for the Aspiring Ski Mountaineer
If you ask any mountaineer for a book recommendation to get into mountaineering, there's a good chance they'll give you The Freedom of the Hills. Much like Staying Alive is the bible of avalanche safety, this book from The Mountaineers is the bible of mountaineering. Though it doesn't only include ski mountaineering, the skills one can learn from this tome (glacier travel, ropework, ice climbing, mountain weather, first aid, and more) are invaluable to any mountaineer of any discipline.
You don't have to read the whole book cover to cover, but owning and regularly perusing relevant sections is pretty much a requirement for more serious ski mountaineering.
Yet another title from The Mountaineers, you can find it here.
Training for the Uphill Athlete by mountaineering legends Steve House, Scott Johnston, and the man himself, Kilian Jornet, is a manual for mountain athletes who really want to push their physical boundaries.
The book includes scientific theory, excerpts from backcountry skiers, trail runners, and mountaineers, as well as examples of how to apply the theory to your personal training.
If you want to push yourself on the uphill or enable yourself to get out on more remote and longer days, this is your guide.
Training for the Uphill Athlete is available from Patagonia.